The Members and Officers of the Board of Directors are elected in separate elections held annually in May.
Officers (2014-2015):
| | |
| --- | --- |
| Acting President | Kate Linker |
| Vice Presidents | Kim Moscaritolo |
|                           | Sara Valenzuela |
| Secretary | Dale Corvino |
| Treasurer | Maki Isayama |
Members
Robin Brown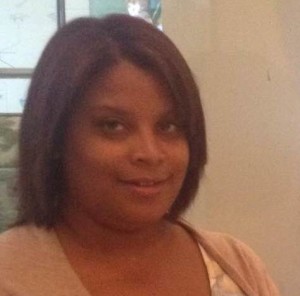 Robin Brown
Robin Brown currently serves as Director of Government Relations at Millennial Strategies, a political consulting firm. She started out in politics on the 2008 Obama campaign, traveling throughout the Northeast working on events. Since then, she has worked on numerous political campaigns in the Northeast, from congressional to state senate races.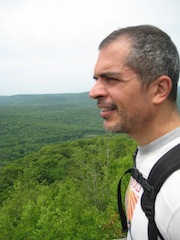 Dale Corvino
Dale Corvino was awakened to progressive activism by the 2008 Obama campaign, and has been contributing on messaging, communications, and coordination fronts ever since. He is a member of Manhattan's Community Board 4 and on New York City's Democratic County Committee.
A graduate of the Cooper Union, Dale has had a decidedly non-linear career in design, as an entrepreneur, operating a photo studio in DUMBO, as a manager for some of New York City's largest real estate interests, and currently as a sales rep in New England and the mid-Atlantic states, the bluest territory in the country. He lives in the Hudson Yards area.  You can reach Dale at dale.corvino@gmail.com.
Maki Isayama
Maki Isayama is the Manager of IT for the Copper Development Association, focusing mainly on IT strategy, content strategy, user experience, and usability issues. In his off hours, he has volunteered with Greater NYC for Change, Chelsea/West Village for Change, 350NYC and worked extensively with Obama for America NYC during the 2012 campaign and in Pennsylvania during the 2008 campaign. A life-long resident of New York City, his progressive roots go back to his youth, when he once helped transport Jimmy Carter's luggage from LaGuardia airport to his hotel in Manhattan. You can reach Maki at gotb2gotvpa@gmail.com.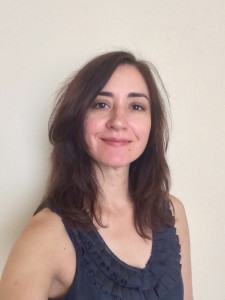 Leah Kozak
Leah Kozak is the current Associate Director and former Director of Programs and Social Media at The Micah Institute at New York Theological Seminary, where she is also earning her Masters in Divinity. The mission of Micah is to educate and equip faith leaders to fight poverty and injustice through advocacy and organizing.
Leah became involved in political action and organizing during the 2008 Presidential campaign as a co-organizer of ObamaNYC, a volunteer-run voter awareness organization to support Barack Obama's candidacy. Utilizing online tools for mobilization, Leah worked with a team of co-organizers to help the grassroots group grow from 12 people at its first meeting in January 2007 to over 2,000 members by Inauguration Day in January 2009. After the president's election, the group's name was changed to VoterbookNYC and its focus shifted to local politics and community involvement. VoterbookNYC was active through 2012.
Leah has volunteered with New York Faith and Justice, sits on the Executive Committee of Downtown Independent Democrats, and is an active member of South Bronx Unite, a coalition of residents, organizations, and allies working together to improve and protect the social, environmental, and economic future of the South Bronx. You can reach Leah at leahkozak@gmail.com.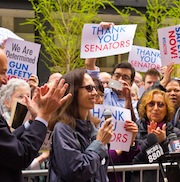 Kate Linker
Kate Linker is passionate about health care reform, campaign finance reform, and the protection of workers' rights, particularly those of the low-wage workers of New York City's five boroughs. She is a former member of the Legislative Committee of New Yorkers Against Gun Violence and the Founder and Team Leader of Chelsea/West Village for Change.  An organizer for Obama for America in the 2008 and 2012 elections in Bucks and Philadelphia Counties in Pennsylvania, she was a coordinator of the Caucus of Democratic Clubs and Progressive Organizations for the NYC Living Wage Coalition.
A widely published writer on contemporary art with a focus on issues of sexuality and representation, Kate is the author of numerous articles and museum catalog essays as well as three books. You can reach Kate at kateplinker@gmail.com.
Betsy Malcolm
Betsy Malcolm has volunteered for numerous campaigns and causes, becoming especially engaged in the Obama 2008 and 2012 campaigns, the grassroots effort to secure marriage equality in New York and, more recently, several New York State Senate campaigns. Her particular interests are passing campaign finance reform and GENDA in New York. She is on the Campaign Finance Reform Committee of the League of Women Voters and the boards of Three Parks Independent Democrats, a Democratic club on the Upper West Side, and TransPac, a PAC formed by the Long Island Transgender Advocacy Coalition to promote transgender equality.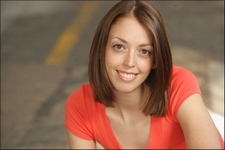 Kim Moscaritolo
Kim is a television news professional by trade, but her passion is political activism. She is a former President of the Manhattan Young Democrats, the largest and most active Young Democrats group in the country.
Over the past four years Kim has organized dozens of community service events with groups such as the Bowery Mission, the Yorkville Common Pantry, the Lower East Side Ecology Center, and the Achilles Running Club.
She was a founding board member of the White Roof Project and was recently named chair of the Legislative Committee of New Yorkers Against Gun Violence. She loves organizing around many issues, including gun control, health care, workers' rights, and reproductive freedom. You can reach Kim at kimmosc@gmail.com.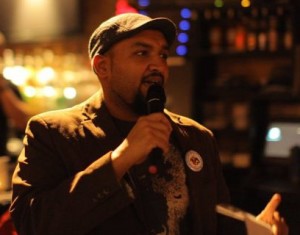 Ahmed Tigani
Ahmed Tigani is an organizer and urban planner. Born and raised in New York City, he began his career in the arts as a designer, director, and actor in social justice theater, but was quickly drawn to a life in public service.
Ahmed worked in the NYC Department of Cultural Affairs as Director of Material Donations for the Materials for the Arts program from 2007 to 2011. While at DCA, he pursued a Master's Degree in Urban Planning, completing it in 2013. As a graduate student, Ahmed served as a Sen. Krueger Affordable Housing Fellow for the Pratt Area Community Council during the rent renewal effort of 2011, a Community Planning Fellow for then-Borough President Scott M. Stringer at Manhattan Community Board 6, and worked on community analysis reports examining the future of industrial sections along Brooklyn's waterfront and cultural relations in Northern Staten Island in 2013.
Ahmed's political involvement began as a volunteer for the 2008 Obama campaign. Since then, he has worked or consulted on four state and city races. Other professional associations include volunteer positions with the Manhattan Young Democrats, The Tank NYC, and the American Planning Association NYC Chapter. Formerly the Legislative Director for NYC Council Member Helen Rosenthal, Ahmed currently serves as Community Development Officer in the Office of Manhattan Borough President Gale A. Brewer. You can reach Ahmed at tighani.ahmed@gmail.com.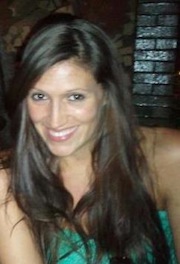 Sara Valenzuela
Sara Valenzuela is the Director of External Affairs in the office of Public Advocate Letitia James.
Prior to joining the Public Advocate's team, Sara spent three and a half years serving in a variety of government outreach roles as New York City Regional Director for State Comptroller Thomas P. DiNapoli, Community Liaison of Immigrant Affairs, Latino Outreach, and Education for New York City Council Speaker Christine Quinn, and Intergovernmental Affairs Liaison and Latino Affairs Liaison for Manhattan Borough President Scott M. Stringer. In these roles, she encouraged progressive legislation and initiatives in partnership with fellow government agencies, elected officials, and advocates in New York.
A graduate of Vanderbilt University and Teach For America alumna, Sara has dedicated her career to political and minority advocacy. Following her TFA commitment, Sara moved to Washington, D.C. in 2007 to serve as Legislative Correspondent to then Congressional Hispanic Caucus Chair Joe Baca. She was later recruited to serve U.S. Senator Robert Menendez as Legislative Aide/Latino Issues Liaison. In addition, she served as Congressional Hispanic Caucus Liaison and advisor on Latino issues for members of the Senate Hispanic Task Force.
During the last months of the 2008 Presidential election, Sara was recruited by Obama for America to serve as Deputy Field Organizer for Hispanic Outreach in Pueblo, Colorado. Following the election she helped found the New Latino Movement, a civic engagement group focused on developing young leaders to promote equal opportunity and justice for Latinos.
Before her move to New York City, Sara spent the last year and a half of her time in Washington, DC as the Associate Director of Government Affairs at Earth Day Network, directing federal policy and national environmental initiatives. She currently resides in the East Village of Manhattan. You can reach Sara at scvalenzuela@ gmail.com.